CRM Extentions
White Labelled Innovations
Real Estate Solutions
With Optima-CRM at the core of your business, extensions built on the same powerful engine allow for highly specialised business processes to be implemented quickly so that your business can start benefiting fast from new trends before your competitors do.

Extensions are also enabling functions that in the past could only be performed by BIG companies who had the means to have custom software created to their needs. Now YOU can be a BIG company without the need of those means!

Innovative Agency Solution
YoVendo
Finally you can now tap into a huge neglected For Sale By Owner (FSBO) market: Owners who never will pay a commission for an agency to represent them in the sale of their property.
Fact: +40% of all property owners reject paying commissions
YoVendo is a new platform for Agencies who can now offer such owners to market their properties without representation nor commissions, against a fixed marketing fee which is not dependent on the success of the sale. While using their existing marketing vehicles, through the automated platform of YoVendo, Agencies can upsell services and fatten their profit margins with the least possible amount of extra efforts.

Convert your business into a marketing vehicle for real estate, increase income from owners who never contract with an agency, and let them fund your steadily growing list of qualified buyers!
Digital Agent
An Assistant for All Parties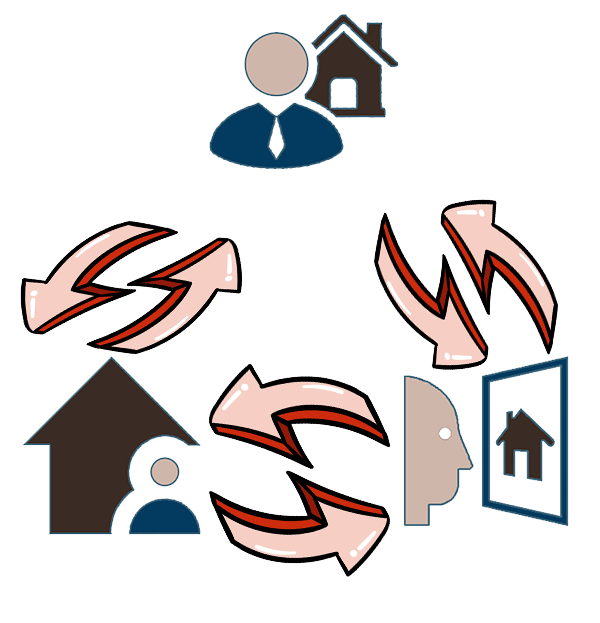 A digital assistant linking the Owner with the Buyer/Renter through the Agency.

This new platform is meant to bring together all involved parties, in real-time, whereas the agency remains in control at all times, whilst property owners can communicate with interested potential buyers and renters.

This easy-to-use tool enables people of all user skills to communicate directly with their counterparts, all documented within Optima-CRM in real-time.
SOME FEATURES

* Optima-CRM as solid basis: All data is centralised in Optima-CRM at all times, allowing you full control always. Communications between parties appears on the respective timelines of Accounts, Owners, Properties, etc.

* Owners & Accounts own platform: both Owners and Account have their own private access to an optimised platform made for their needs & with an optimal user experience. You control their access.

* Owner functions: owners can create their own properties (yet that's not a must) & make minor updates to some values. Accounts interested in their property are visible for electronic communication which is recorded in Optima-CRM while being delivered to the respective Account. Viewings can be confirmed, offers countered, etc.

* Account functions: accounts can create & update their preferences in their profile, generating relevant properties in real-time. Relevant properties are visible for electronic communication with their Owner (or the Agency if not an Own listing) which is recorded in Optima-CRM while being delivered to the respective Owner. Viewings can be requested, offers created, etc.

New Construction Projects Commercialisation
Co-Broking Platform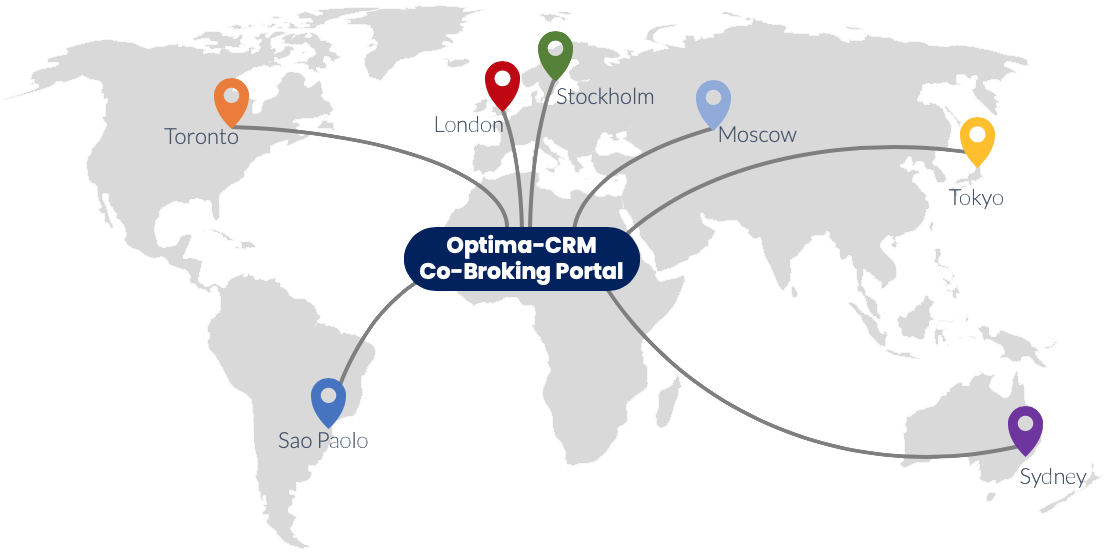 White-labelled Portal Platform allowing you to create national and international collaborations with Real Estate agencies looking to market your New Construction Projects, whether or not being the promotor yourself.

Save big on the redundant International Real Estate Marketing Companies. Our clients embracing this innovative platform save from 4% and upwards on total sales values in commercialisation costs.

The Co-Broking Platform allows you to deliver standardised marketing materials, distributing it through your network of agencies who are marketing your projects in their local markets, bringing your buyers for only the sales commission and not their marketing costs
SOME FEATURES

* Access-controlled: you define which agencies are allowed to market your Projects and whether you charge for this service.

* Market in all your target markets without spending money on marketing: the Co-Broking Agencies market your Projects in the their local markets.

* Pay only commissions on successful sales.

* You control the image of your Projects through your marketing material that's made available through the Portal: Co-Broking Agencies download the materials branded in their individual brands and contact info...safeguarding the price and image while making it easy for these agencies to promote your Projects.

* Book viewings through the Portal straight into Optima-CRM.

Innovative Rental solution
Alquilo-Yo
Alquilo-Yo is an innovative platform for Agencies to offer property owners a new way of contracting with the Agency for renting their property/properties. This platform on one hand puts the owner in control of the rental process that's handled by the Agency, with real-time statuses on finances and bookings. Owners can block or book properties themselves while contracting management services offered by the Agency.

Property availability is kept up-to-date in real-time through iCal synchronisation with calendars in a variety of portals and websites where the properties are being marketed.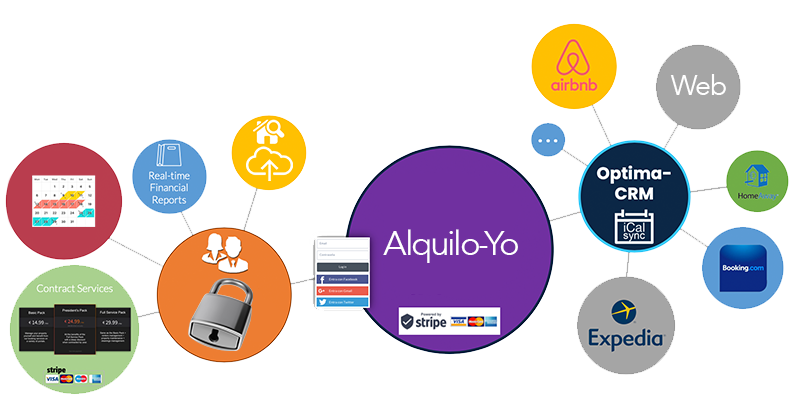 Franchising & Managing Multiple Offices
Growing or expanding your company?
Especially for growing businesses and franchising networks alike, we have introduced the functions to manage multiple offices from a central or master office. As master office, you decide who gets to access which data in the group while all are using the same CRM solution.

Data protection is required in its broadest sense yet without having to duplicate unnecessary work. Using the multi-offices solution works both for companies internally managing multiple physical or virtual offices, as well as to build out a franchising network where you need to stay in control and have total visibility over each of the offices in your network.

Additional functions and reporting can be made available specifically to suit your needs and particular structure. Having this base in place makes it an easy and fast process to adapt it to your needs within a very short period of time.

Special pricing applies to franchising businesses and we suggest you contact us for such specifics.